The Roadie
---
The all new Roadie - compact, organized, and designed for on-the-go. With 113 items, the Roadie is the perfect blend of everyday, first aid, and scenario-specific essentials. Whether you're navigating the carpool lane, enduring a long work commute, or embarking on a road trip, the Roadie has you covered. 
113 items. Hand-picked by experts. The Roadie is the perfect blend of lifestyle, first aid, and helpful tools.
Removable On-The-Go Essential Bag. Stocked with 13 everyday items and fits into the middle console and glove compartment of your car. Made with soft, PU leather.
Your Roadie, Your Way. Empty zipper pocket for personal add-ons.
Effortless Organization. With a book-style opening and color-coded pouches, can access and see your essentials easily.
Quality & Quantity. Sourcing items of the highest quality, without compromise.
Secure Storage. Three car attachment options allow the Roadie to be mounted in every type of vehicle and adhered to any inch of its interior.
Built to Last. UV, water, and tear/abrasion resistant.
Specifications & Shipping

Designed and Assembled in USA
Dimensions: 9.4" x 8" x 3.3"
Exterior Material: 1000 D Cordrua Nylon
Interior Material: 420 D Nylon
Item Count: 113
Car Attachment: Velcro Mounting Pad, Buckle strap, Large Velcro Strap
Included: Roadie Bag, Removable Everyday Essentials Bag, & (3) Car Attachments

All orders are shipped within 1-3 days from our Dallas, TX warehouse.
Get Redi with free shipping & a free gift ($40 Value). Choose from our Everyday Essentials Bag (13 on-the-go items) or Stainless Steel, 21-in-1 Multi-Tool.
CONTENTS
113 essential Items that you never have to leave home without again.
Say goodbye to last-minute dashes home or inconvenient store runs — The Roadie is your go-to 'everything bag', equipping you for the unexpected, routine, and everything in between. Backed by thorough research and real-world testing, we left no stone unturned in selecting items that are not just convenient, but vital for any situation on the go.
Compact Hairbrush & Mirror
Dental Floss
Stain Remover Pen
Tissues
Reusable Lint Roller
Peppermint Chapstick
Fine Point Pen
Microfiber Cloth
Peppermint Mints
Sticky Notes
Multi-Surface Disinfectant Wipes
SPF 50 Sunscreen
Hand Sanitizer
Stainless Steel Tweezers
Emergency Urinal
Instant Cold Pack
Poncho
Pen Flashlight with batteries
Permanent Marker
6" Trauma Shears
CPR Shield
Digital Thermometer
Silk Adhesive Tape
Eye Wash Solution
First Aid Booklet
Bandage Pouch

(10) Bandage 1x3" | Latex Free
(10) Children Bandage | Latex Free
(5) Fingertip Bandage | Latex Free
(3) Bandage 2x4" | Latex Free
(3) Blister Pad
(2) Wound Closure Strip

Gauze Rolls & Wraps

(2) Gauze Pad 2x2"/4x4"
(2) Non-Adherent Pad 2x2"/4x4"
(2) Eye Pad
(1) Abdominal Pad
(1) Cohesive Wrap 2x5"
(1) Gauze Roll 4"

Skin Treatment

(4) Hydrocortisone Cream
(3) Burn Relief Gel
(2) Anti-Itch Cream
(2) Bug Repellent
(1) Sting Relief Wipe

Wound Prep

(5) Triple Antibiotic Ointment
(5) Antiseptic Towelette
(5) Hand Sanitizing Wipe
(2) Petroleum Jelly
(2) Pair of Nitrile Gloves | Latex Free
(4) Iprin (Comparable to Advil®)
(2) APAP (Comparable to Tylenol®)
(2) Aspirin (Comparable to Bayer®)
(2) Diamode (Comparable to Imodium® AD)
(2) Nutralox® (Comprable to Tums®)
(2) Diphen (Comprable to Benadryl®)
(2) Sudo-Tab® PE (Comprable to Sudafed PE®)
(2) Cetafen® (Comparable to Cold/Cough Relief)

Glucose/Electrolytes

Glucose Gel Packet
Electrolyte Packet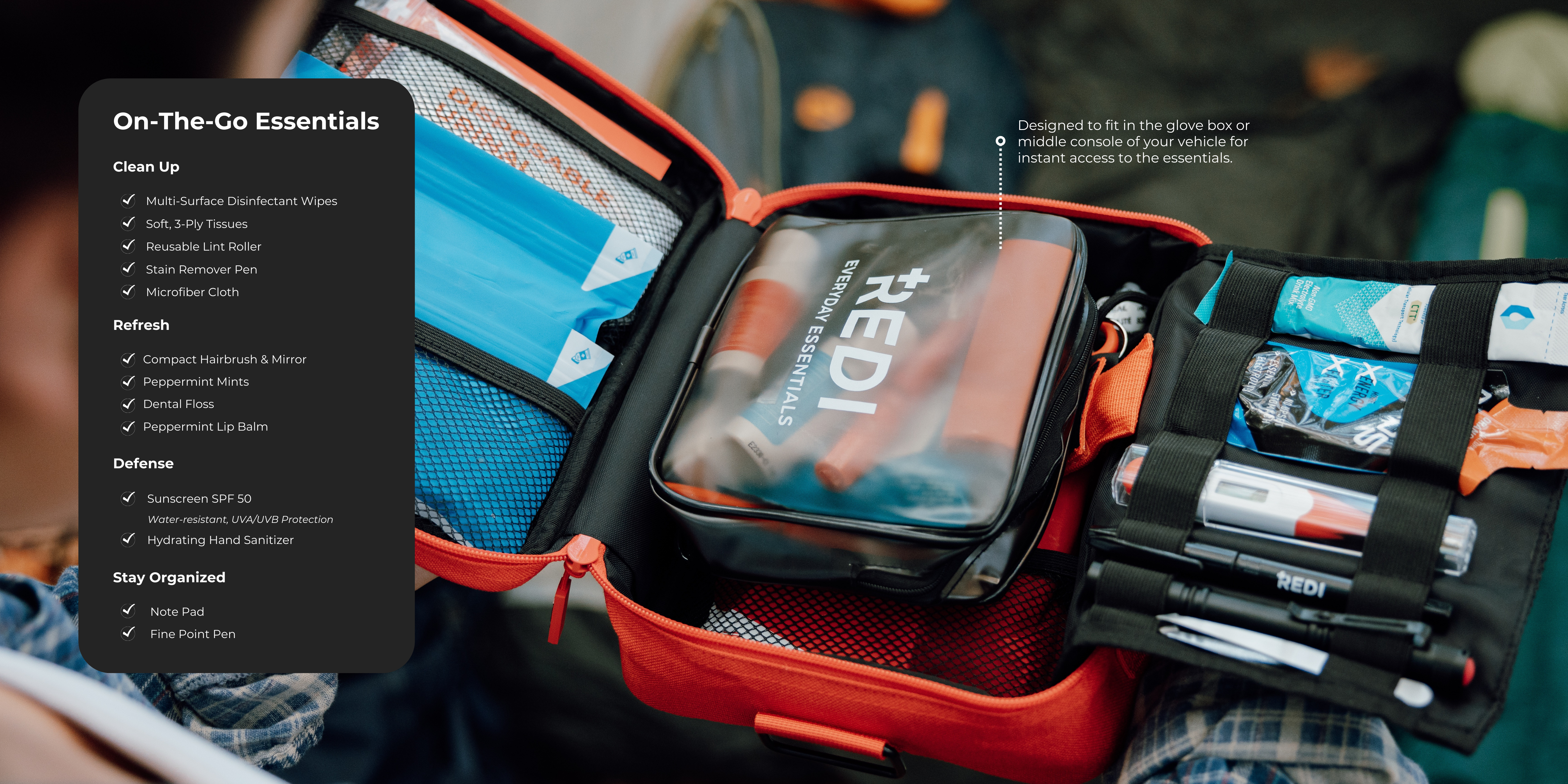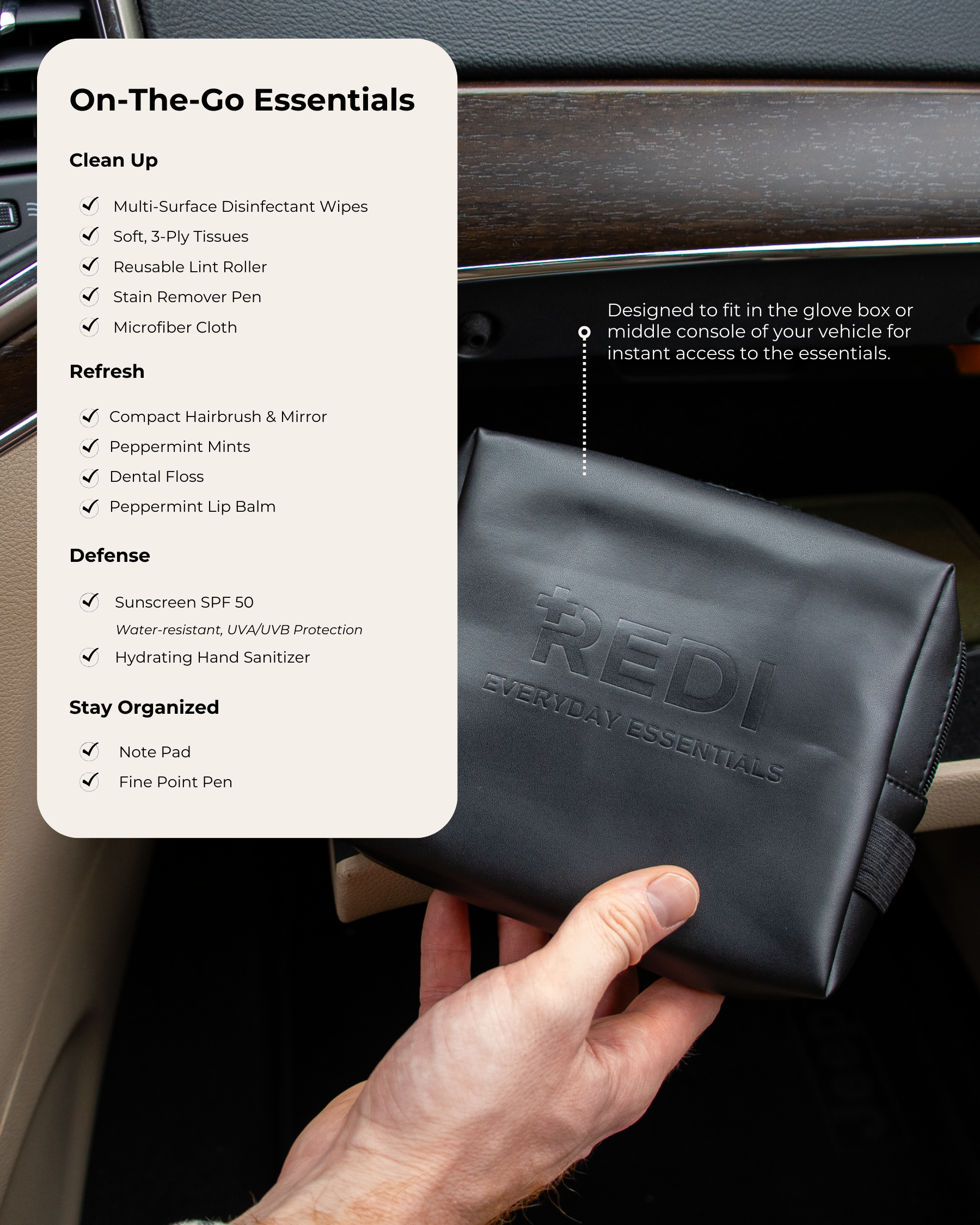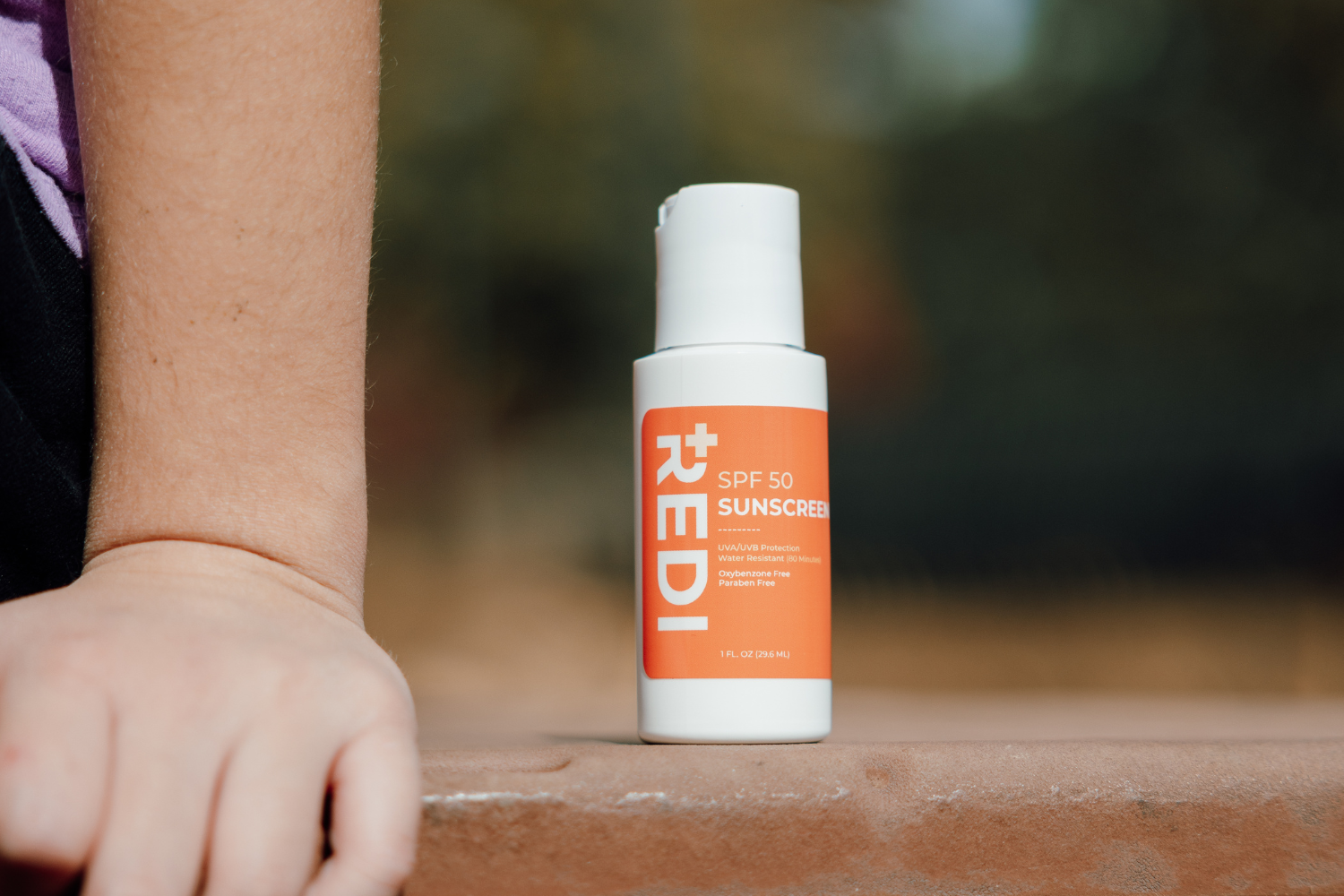 Performance Beyond the First Use
Every item in the Roadie has been hand-picked for unwavering quality and reliability. From our oxybenzone and octinoxate-free sunscreen that leaves no white cast to the precision of stainless steel tweezers, we've ensured that each tool and product is your dependable companion, ready to perform time after time.
Grab and Go Mentality
The Roadie opens like a book, revealing clearly labeled pouches with contents and quantities, ensuring you can locate items quickly and effortlessly. It is easier than ever to grab what you need and get on with it.
Replenish on Demand
The Roadie features color-coded pouches with content lists and quantities, and a QR code for quick re-up of supplies.
Right Where You Need It
Three distinct mounting options to ensure your Roadie stays secure, accessible, and neatly stored while on the road. Each attachment is designed to adhere to various surfaces and components of the car for secure storage no matter the circumstance.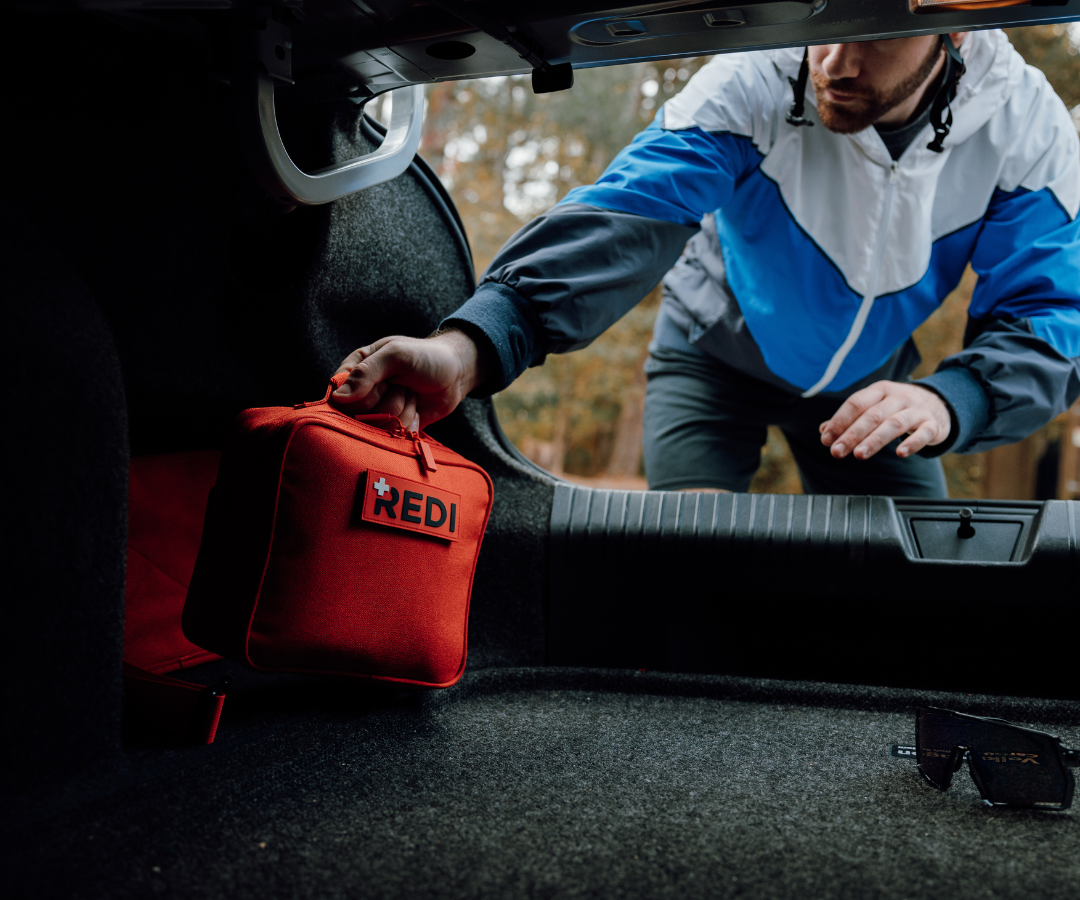 Velcro Mounting Pad
Designed specifically for cars with a carpeted interior, featuring tightly woven velcro backing and a large double latch buckle.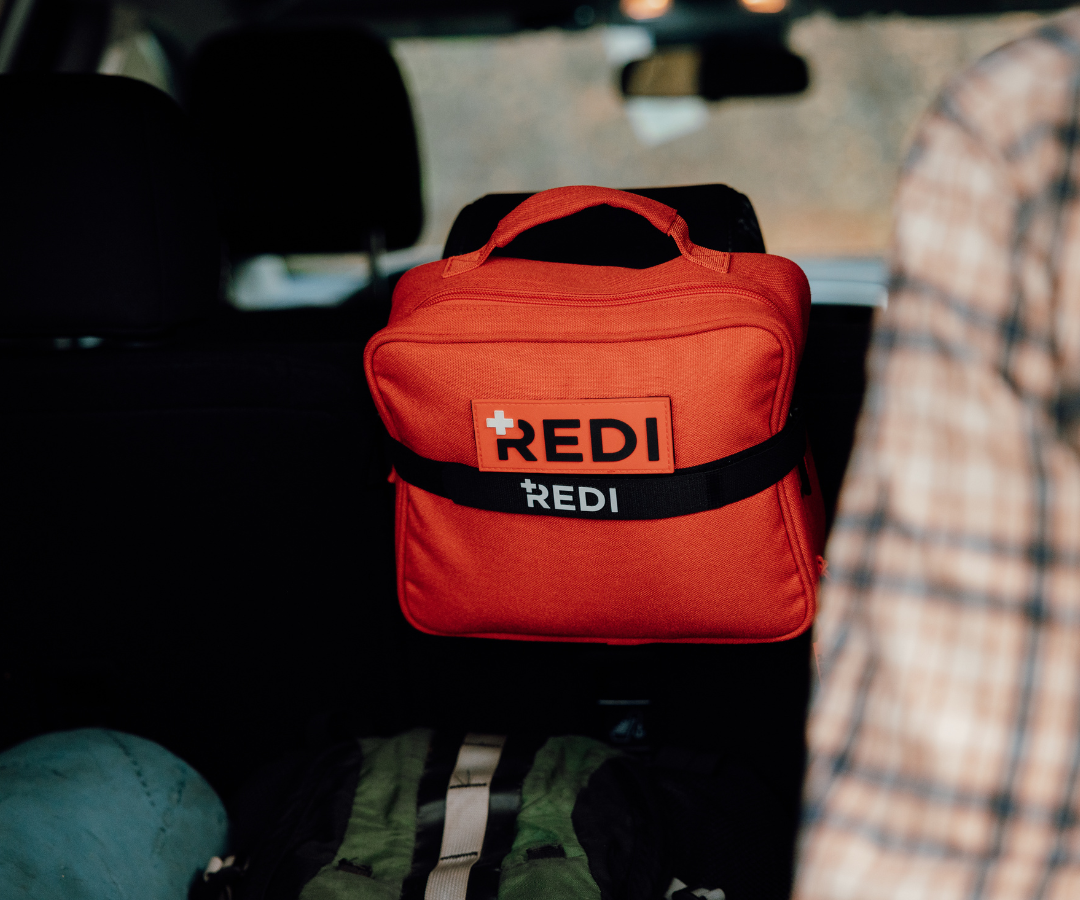 Velcro Strap
Perfect for attaching the Roadie to the back of your seat or headrest.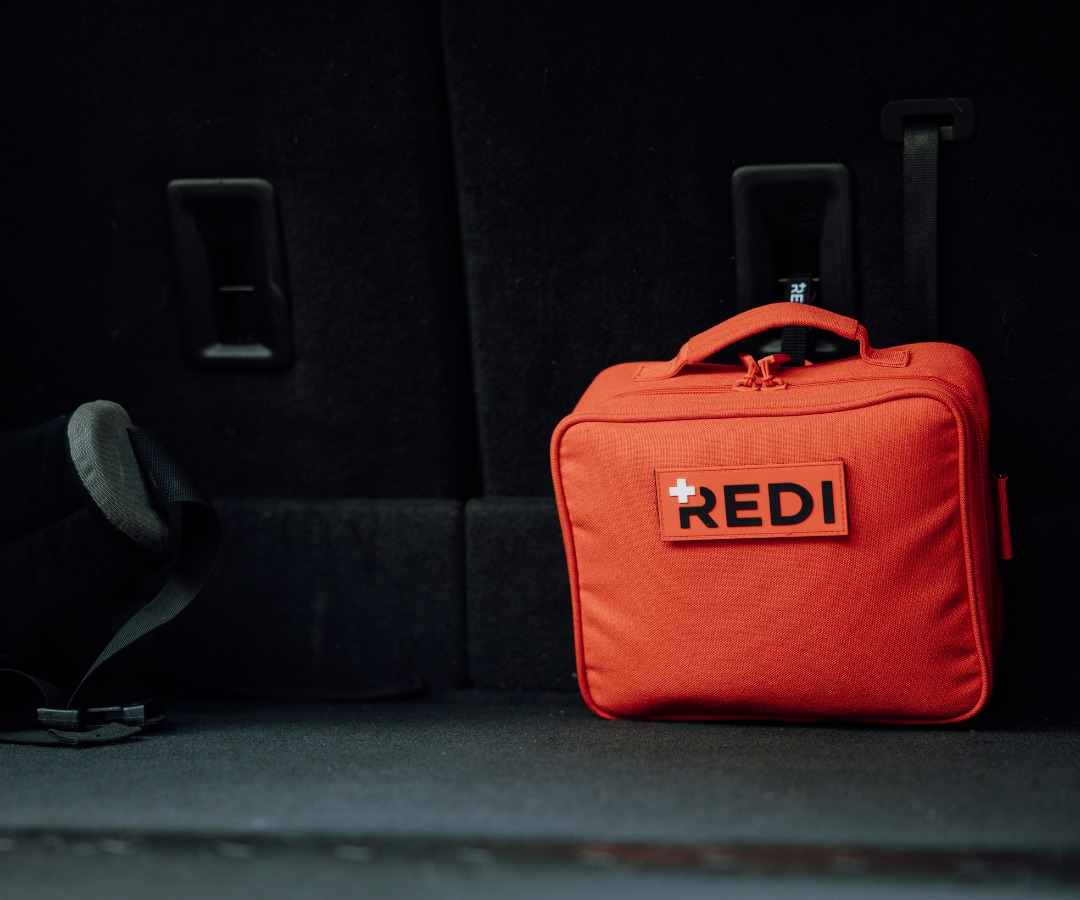 Buckle Strap
Secures the Roadie through any tether anchor or hook found within your vehicle.
The mounting system is awesome

Thankfully it hasn't been used much, but I love the mounting feature! The back seats in my truck flip up and I just velocroed it to the bottom of the seat. It fit perfectly and I just have to flip up the seat to get to it and is otherwise completely out of the way. But be cautious with the velcro. I decided to move it but it was so velcroed on there it took a good while to pull it off...

Perfect car kit

The roadie kit is perfect for people who like to be organized. The included supplies are high quality.

Mark A.

Verified Reviewer

Best first aid kit

The Roadie is a complete and comprehensive first aid kit that is great for most first aid needs. I keep mine in my vehicle so it's always at the ready.
Reviews Loaded
Reviews Added
Can the Roadie be left in the car year round?

The Roadie is designed to be left in the car year round, whether it is the middle of winter or summer.
Are the bandages latex free?

Yes the adhesive bandages are latex free. Other items that are latex free include: all gauze rolls, gauze pads, non-stick pads, and the emergency pressure bandage. However, the cohesive wrap is not latex free.
What is the average expiration date of the items inside the Roadie?

Great question! The average expiration date for the items inside the kit range from 2-4 years. When you purchase the Roadie, our database stores the expiration date for each item within your kit. When it gets close to an item's expiration date, we will shoot you an email letting you know.
When items in the Roadie are used up, do you offer a cost-effective way to replace the items? Or do I have to buy another  kit?

Yes! You can re-stock your Roadie directly from the QR code inside your kit. A variety of refill packs are available on our website and are the perfect way to replenish your Roadie with ease.
Are the Roadie kits FSA Eligible?

The Roadie is not FSA/HSA eligible. There are two items that are not FSA eligible which means that the entire kit is not either. For the future, we plan on offering an FSA eligible kit so stay tuned!
Do you offer discounts for government workers?

Yes! We offer discounts for the following:

Military: US military personnel including reservists, active-duty, veterans, and retired; Military spouses and dependents || Law Enforcement: All first responders including firefighters, law enforcement, and EMTs || Teachers: K-12, college, or university teachers, professors, and staff || Healthcare: Medical doctors, licensed nurses, etc.
You may also like